No Small Children
rockin' chicks by night and schoolteachers by day
No Small Children is excited to have their version of Laisse Tomber Les Files' featured in the major motion picture, 'A Simple Favor'. In addition, NSC was thrilled to collaborate with legendary Jim Henson puppeteers on a video for their original song, 'Radio'. This song and several others were featured in three seasons of the Netflix series, Santa Clarita Diet, as well as the video game, Rock Band. NSC performed at the fall festival, Riot Fest, in Chicago, IL, along with Beck, Blondie, Wolfmother, and many others. No Small Children continues to be played on radio stations throughout the world, including NPR and KROQ! Check out the band's newest release, a song for kids and grown-ups alike titled, Sing Loud.
NSC is honored to have performed at the Unity Ball in Washington DC immediately following the Women's March on Washington. The band spoke about this and other topics during their interview on NPR's Weekend Edition. Other features of NSC's expansive coverage include Billboard and LA Times.
No Small Children's remake of the classic Ghostbusters theme song was released by RCA records and is featured in the Ghostbusters remake! Listen to the song and watch the video!
GENERAL INFORMATION
Band Members: Lisa Pimentel, Nicola Berlinsky, and Joanie Pimentel.
Location: Los Angeles, CA
Style: Alternative, Rock
Producer: Bob Marlette (Rob Zombie, Black Sabbath, Filter, etc…)
Booking & General Information:  [email protected]
Social Media: Facebook, Twitter, Instagram
MUSIC
Single 'Laisse Tomber Les Filles'
Single 'Sing Loud'
Single 'It's All for Love'
Single 'Radio'
Single 'Ghostbuster's Theme'
LP 'What Do the Kids Say?'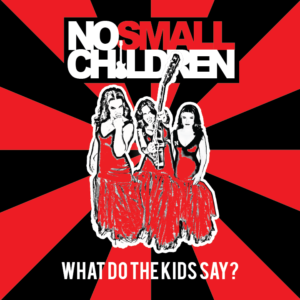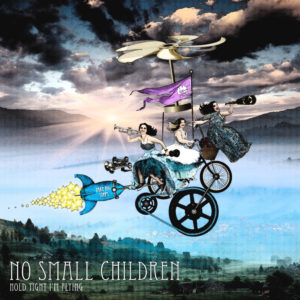 LP 'Trophy Wife'
EP 'Dear Youth'
Check out some samples
Sample Music: Radio, Big Steps, Hold Tight I'm Flying, Machine, Might Get Up Slow, KMA, FU in any language (explicit), Laisse Tomber Les Filles,
All music is produced by Lisa Pimentel and the legendary Bob Marlette (Red Sun Rising, Rob Zombie, Black Sabbath, Filter, etc). All of NSC's music is available on iTunes and CD baby. Click here for a complete list of of recordings.
VIDEO
'Laisse Tomber Les Filles' as heard in the film, A Simple Favor
'Radio' –  Directed by and featured with Henson Puppeteers
'Ghostbusters Video' – Directed and produced by Bob DeMarco in association with Sony Pictures and RCA Records.
'Drunk Creepy Guy' – Directed and produced by David Berlinsky.
'Big Steps'
'Might Get Up Slow' -Produced by Clinton-Khile Brägger.
'I'm So Concerned' – Directed and produced by David Berlinsky with photography by Marjorie Salvaterra
SPONSORS & ENDORSEMENTS
Pinup Girl Boutique
Dean Markley
Vater
Diamond Guitars
*Additional local LA shows averaging between 4-6 times per month