Check out No Small Children's 4th album titled, 'What Do the Kids Say?'
The band's original songs, 'Radio' and  'Big Steps', are featured in the Netflix series, Santa Clarita Diet  and their song 'Radio' is featured in the recently released version of the video game, Rock Band.  No Small Children continues to be played radio stations throughout the country, including NPR and the world famous KROQ, Los Angeles!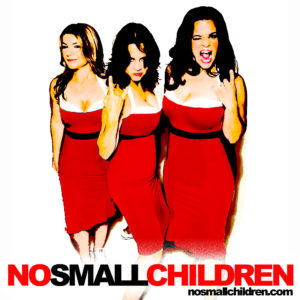 GENERAL INFORMATION
Band Members: Lisa Pimentel, Nicola Berlinsky, and Joanie Pimentel.
Location: Los Angeles, CA
Style: Alternative, Rock
Producer: Bob Marlette (Red Sun Rising, Rob Zombie, Black Sabbath, Filter, etc…)
Booking & General Information:  [email protected]
Social Media: Facebook, Twitter, Instagram
Music Streaming: Spotify
NSC is honored to have been invited to perform at the Unity Ball in Washington DC immediately following the Women's March on Washington. The band spoke about this and other topics during their interview on NPR's Weekend Edition that aired January 1st.
No Small Children's remake of the classic Ghostbusters theme song can be heard in the new Ghostbusters movie! Listen to the song and watch the video! Additionally, RCA Records has officially released the song as a single.
Three teachers walk into a bar, onto the stage, plug their instruments in and then… they melt your face.
No Small Children's new album "What Do the Kids Say" was produced by the legendary, Bob Marlette (Rob Zombie, Black Sabbath, Filter, etc…). Produced by Lisa Pimentel and mixed by Bob Marlette, this album is heavier and more complex, but just as bold and unapologetic as their first three, "Hold Tight I'm Flying", "Trophy Wife" and "Dear Youth"; all available on Spotify, iTunes, and CDBaby.
NSC released their third music video,
Big Steps
, in March of 2016. Created with the help of over 30 people who generously volunteered their time, talent, and resources, the video is a collaboration in the truest sense. Their other videos include 
Might Get Up Slow
 and
Drunk Creepy Guy
.
NSC's animated, edgy and break-neck live show both invites you in and calls you out, all while you sing along to the fresh, yet familiar, refrains of their carefully constructed songs. Their glamorous matching dresses and bona fide command of the stage will have you leaving at the end of the night a little hoarse, with a smile, and a warm fuzzy feeling.
"I was struck not only by their musicianship but by how well they engage an audience. Lisa and Joanie are a powerful pair of front women" -Alice Bag Razorcake Mag
No Small Children is an all-girl band, or as they call themselves, a band. They were born on the playground in the spring of 2012. Elementary school-teachers by day, guitarist and singer Lisa Pimentel and drummer Nicola Berlinsky decided to start the band while covering recess duty. Three months later they had an EP, countless shows behind them and an east coast tour booked. By October 2013, bass player and singer Joanie Pimentel had moved to Los Angeles to join the group. With all three teaching at the same school, lunch breaks became band meetings, after-school times became rehearsals and holidays were reserved for touring.
"Relatively new on the L.A. scene, all lady trio
No Small Children
have been tearing it up, one dive bar at a time" Aileen Frasier, The LA Beat 2015
In 2014, NSC released their LP, "Trophy Wife", toured both east and west coasts and played three shows at SXSW. In 2015, along with their frequent California shows, tour plans include Colorado, the Midwest, and East Coast.
"It's not unusual for kids to wear a T-shirt to school with their favorite band on it. But at this school., that T-shirt may also have a picture of their teacher — actually, three of their teachers." NPR –Secret Lives of Teachers, 2014.
These ladies eat, live and breathe music, and you can feel it in their songs. They create it, perform it, and then pass their love of it onto the next generation of music lovers. Soon to be playing at a big theatre near you…