No Small Children
rockin' chicks by night and schoolteachers by day
No Small Children is excited to have their version of 'Laisse Tomber Les Files' featured in the 2018 major motion picture, 'A Simple Favor'. Check out their music video! In September of 2018, NSC was one of the featured bands at the world famous music festival, Riot Fest in Chicago, IL. In August of 2018, No Small Children released their new music video, 'I'm So Concerned' and in May they celebrated the release of their 4th album titled, 'What Do the Kids Say?' The band's original songs, 'Radio' and 'Big Steps', are featured in seasons 1 and 2 (respectively) of the Netflix series, Santa Clarita Diet. 'Radio' is also featured in the recently released version of the video game, Rock Band.  No Small Children continues to be played on radio stations throughout the country, including NPR and the world famous KROQ, Los Angeles!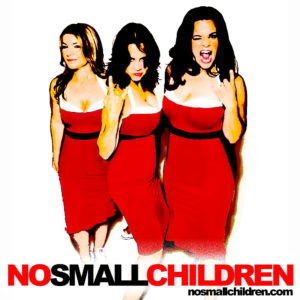 NSC is honored to have been invited to perform at the Unity Ball in Washington DC immediately following the Women's March on Washington, January 21st, 2017. The band spoke about this and other topics during their interview on NPR's Weekend Edition that aired January 1st.
No Small Children's remake of the classic Ghostbusters theme song was released by RCA records and is featured in the new Ghostbusters movie! Listen to the song and watch the video!
GENERAL INFORMATION
Band Members: Lisa Pimentel, Nicola Berlinsky, and Joanie Pimentel.
Location: Los Angeles, CA
Style: Alternative, Rock
Producer: Bob Marlette (Red Sun Rising, Rob Zombie, Black Sabbath, Filter, etc…)
Publicist: Lafamos, lafamos.com
Booking: Heavy Talent, jake@heavytalent.com
General Information:  nosmallchildrenmusic@gmail.com
Social Media: Facebook, Twitter, Instagram
MUSIC
Single 'Laisse Tomber Les Filles' Sept 2018
Single 'It's All for Love' May 2018
Single 'Radio' 2017
Single 'Ghostbuster's Theme' 2016
LP 'What Do the Kids Say?' May 2018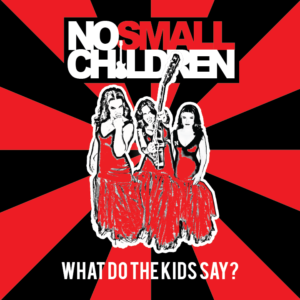 LP 'Hold Tight I'm Flying' 2015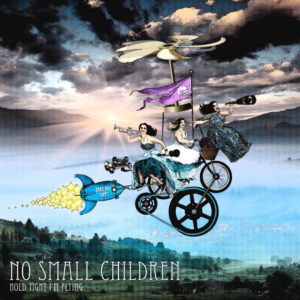 LP 'Trophy Wife' 2014
EP 'Dear Youth' 2013
Check out some samples
Sample Music: It's All for Love (for goodness sake), Radio, Big Steps, Hold Tight I'm Flying, Machine, Might Get Up Slow, Take It Away, KMA, FU in any language (explicit),
All music is produced by Lisa Pimentel and the legendary Bob Marlette (Red Sun Rising, Rob Zombie, Black Sabbath, Filter, etc). All of NSC's music is available on iTunes and CD baby. Click here for a complete list of of recordings.
VIDEO
'I'm So Concerned' – Aug 2018 Directed and produced by David Berlinsky with photography by Marjorie Salvaterra
'Drunk Creepy Guy' -Jan 2015. Directed and produced by David Berlinsky.
'Might Get Up Slow' -September 2013. Produced by Clinton-Khile Brägger.
'Big Steps' – April 2016.
'Ghostbusters Video' – July 2016. Directed and produced by Bob DeMarco in association with Sony Pictures and RCA Records.
SPONSORS & ENDORSEMENTS
Pinup Girl Boutique
Dean Markley
Vater
Diamond Guitars
2019 TOURS/FESTIVALS/PERFORMANCES
Summer 2019 Tour Dates:


August 31st – Drifters Cocktails, Santa Clarita, CA
August 10th – ONCE, Somerville, MA
August 9th – 13th Floor Music Lounge, Florence, MA
August 7th – The Anchor, Kingston, NY
August 3rd – C Note, Hull, MA
August 2nd – The Milltown Festival, Sturbridge, MA
July 30th – Private Party, Belmont, MA
July 28th – Babes Bar, Bethel, VT
July 27th – Chet Fest with Bow Thayer, Randolph Center, VT
July 26th – Sweet Melissa's, Montpelier, VT
July 20th – The Mint, Los Angels, CA
July 6th – The House of Machines, Los Angeles, CA
June 14th – Maui Sugar Mill Saloon, Tarzana, CA
April 6th – The Wayfarer, Costa Mesa, CA with ANVIL!
Spring 2019 Tour Dates:


March 30th – Thunder Road, Somerville, MA (with Superhoney)
March 29th – Sweet Melissa's, Montpelier, VT
March 28th – Mother Pug's Saloon, Staten Island, NY
March 27th – The Anchor, Kingston, VT
March 26th – Envolvement Radio, Newburyport, MA (radio appearance)
March 24th – The Middle East, Cambridge, MA (acoustic upstairs)
March 21st – NSC Recroom Concert Series, Belmont MA (sold out)
February 23rd – Drifters Cocktails, Santa Clarita, CA
February 22nd – The High Hat, Los Angeles, CAA
February 15th – The Viper Room, Los Angeles, CA
January 26th – The Hood Bar, Palm Desert, CA
January 12th – The Blue Lagoon, Santa Cruz, CA
January 11th – The Caravan Lounge, San Jose, CA

2018 TOURS/FESTIVALS/PERFORMANCES
December 8th – LA Zoo, Los Angeles, CA
November 9th – The Viper Room, Los Angeles, CA
September 14th-16th – Riot Fest, Chicago, IL
August 24th – The Satellite, Los Angeles, CA
Summer 2018 Tour Dates:


August 4th – C Note, Hull, MA
August 3rd – 13th Floor Music Lounge, Florence, MA
August 2nd – Higher Ground, South Burlington, VT
July 31st – Boot & Saddle, Philadelphia, PA
July 29th – Jammin Java – Vienna, VA
July 28th – The Bowery Electric, NYC, NY
July 27th – Thunder Road, Somerville, MA
June 25th – The Wayfarer, Costa Mesa, CA
June 23rd – Cafe Nela, Los Angeles, CA
June 24th – Vans Warped Tour, Ventura County Fairgrounds, CA
June 22nd – Caravan Lounge, San Jose, CA
June 20th – Lost Lake, Denver, CO
June 18th – Cafe du Nord, San Francisco, CA
May 17th – The Satellite, Los Angeles, CA. ALBUM RELEASE PARTY sponsored by the World Famous KROQ!
May 10th – Alex's Bar – Long Beach, CA
May 3rd – Bar Pink, San Diego, CA
April 8th – Lucky Strike, Hollywood, CA
February 22nd – The Satellite, Los Angeles, CA
February 1st – Lucky Strike Live, Los Angeles, CA
January 25th -Maui Sugar Mill Saloon, Tarzana, CA
January 20th – KROQ HD Studio Sound Stage, Los Angeles, CA
*Additional local LA shows averaging between 4-6 times per month